Visiting Loyd Park
Loyd Park is located on the northwestern shore of Joe Pool Lake. The park offers visitors an opportunity to pursue a wide range of outdoor pursuits. These webpages about the park are designed to provide you with the information you need to plan your next visit. This page contains an overview of many of the park's amenities. There are also pages where you can find out about camping, rental cabins, the boat launch, or get driving directions to the park. Navigation links on the left side of the page provide links to these other pages and there are also links found throughout the text below.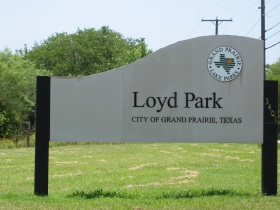 Entering Loyd Park
There is a $10 per car entry fee ($15 on holidays and holiday weekends - except $20 on 4th of July), with a maximum of 6 people per vehicle. There is a $10 fee for the use of boat launch. You can also purchase a yearly pass for $125. Loyd Park is open 24 hours a day.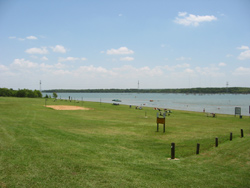 Swimming at Loyd Park
The swimming beach is a grassy field that extends to the shoreline of Joe Pool Lake. This area also boasts a few picnic tables and a volleyball court. There is no lifeguard present, there are no glass bottles allowed, and you cannot bring any pets to this area. The park's main parking lot, a bathroom with a changing room, a concession stand, and a playground are all found adjacent to the swimming beach.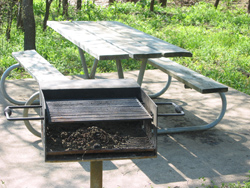 Loyd Park Picnics and Barbeques
There are many covered picnic tables in various areas of the park; at each campsite, around the beach and playground, and in a few other areas. Most of the tables are on a concrete pad and have a barbeque grill located just off one edge of the concrete.
Group picnic facilities
Loyd Park has two group pavilions. Pavilion "H" has seating for 80 people, a baseball field, parking for ~ 40 vehicles, and a restroom facility. Pavilion "I" also has seating for ~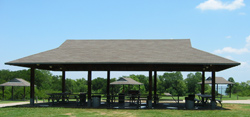 80 people. The beach, and its facilities (restroom, changing room, concession stand, playground, volleyball court, and its parking area), are also close at hand. The pavilions rent for $50.00 per day from Mon-Thu, $150.00 per day from Fri-Sun and $175 on holidays and holiday weekends. The $10.00 per vehicle entrance fee (up to 6 people per vehicle) still applies to everyone who enters the park to enjoy the use of a rented group pavilion. Reservations may be made through the City of Grand Prairie at Joe Pool Lake by phone 972-237-4120.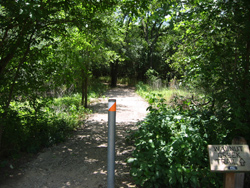 Loyd Park Trails
Loyd Park has six miles of multi-use trails. The main trail, Walnut Creek, can be used for hiking, biking, and horseback riding. The trails are relatively easy. If you are in the park and want to go for a walk they're great. You can also check out the Joe Pool Lake Hiking page to learn more about other trails around the lakes.

Cedar Hill State Park Trails, in particular, are quite nice. Dogs are allowed on the trails in Loyd park provided they are on a leash.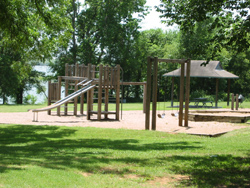 Places to Play in Loyd Park
If you have children, there is a small playground at Loyd Park where you can take them to play. It is located near the main entrance of the park and is close to the swimming area. If you enjoy a game of volleyball there is a court at the beach. The group pavilion area "H" has its own ball field. It does not have a dirt infield but there is a backstop and some bleachers for the fans.
Loyd Park Contact Information

This site is not affiliated with Loyd Park or the City of Grand Prairie. You can contact park management at 972-237-4120. They also have a website.
Loyd Park is located off of Ragland Road, east of SH 360, in Grand Prairie, Texas.

If you were looking for Lloyd Park you have probably found the right park. Many folks mistakenly assume the Loyd in the park name is spelled Lloyd .