Visiting Lynn Creek Park
Lynn Creek Park is a day use facility that is open from March through October. The park is managed by the city of Grand Prairie. Lynn Creek is located along the northwest corner of Joe Pool Lake and is accessed from Lake Ridge Parkway (driving directions). Within the park's 785 acres you can find a swimming area with a beach, a playground, a a concession stand, two boat ramps, group and single use picnic sites, and a sand volleyball court (Lynn Creek Park map).
Lynn Creek Park annually hosts the holiday light display "Prairie Lights." The event begins after Thanksgiving and runs through New Year's Eve.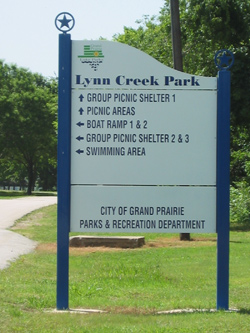 Entering Lynn Creek Park

There is a $10 per car entry fee, with a maximum of 6 people per vehicle (holidays are $15 - Easter, July 4, Labor Day). There is no additional fee, beyond paying to enter the park, for using the boat launch. You can purchase a yearly pass for $100, which also allows you entry into Loyd Park. Annual passes expire in February. Lynn Creek Park is open 6 a.m. to 10 p.m. daily from March through October.
Residents of Grand Prairie (with proof being showing a valid driver's license with a Grand Prairie, Texas address) can get in for free, with some stipulations. Free entry is only good for one vehicle with up to six people and this offer is not valid during holidays and special park events. It also does not apply if you are towing a boat.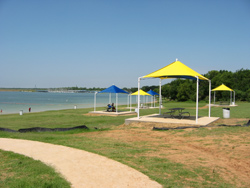 Swimming at Lynn Creek Park
The swimming area has a nice sandy beach that was completely remade in the spring of 2007. There is also a grassy section that a some covered picnic tables. Adjacent to the beach/swimming-area there are a playground, restrooms, changing rooms, and a concession stand.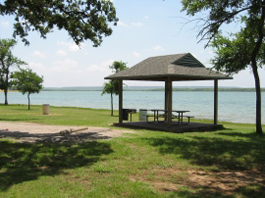 Lynn Creek Park Picnics and Barbeques
The park contains close to 100 picnic tables. Some tables are covered, sit on a concrete pad, and have a waist high barbeque grill just off one edge of the concrete. Many of these sites have a pull up parking place with room for two cars. Other tables have no grill, no concrete pad, and are shaded by trees. These tables are typically walk up sites and are located near the parking areas.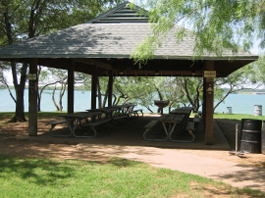 Group picnic facilities
Lynn Creek Park has two pavilions where you can have a picnic with a larger group. They pavilion itself is a larger covered area that protects a number of picnic tables. There is also a large barbeque grill off to one side of the pavilion. The smaller site has six picnic tables and is located next to the main parking lot. The beach, and its facilities (restrooms, changing rooms, concession stand, and playground) are also close at hand. The second group pavilion is slightly larger, with eight picnic tables, and is in a more secluded wooded area. There is a parking area and restroom facility specifically for this group picnic site. The beach and all of its facilities are just a short walk away.
The pavilions rent for $25.00 per day from Mon-Thu and $100.00 per day from Fri-Sun and on holidays. The $10.00 per vehicle entrance fee (up to 6 people per vehicle) still applies to everyone who enters the park to enjoy the use of a rented group pavilion. Reservations may be made through the City of Grand Prairie by phone (817) 467-2104.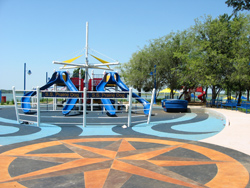 Places to Play in Lynn Creek Park
There is a playground with a nautical theme located near the beach/swimming area. The elaborate structure found there - the "SS Prairie Dog mega-playground" - was constructed as part of the spring 2007 rehabilitation of the park.
There is also a sand volleyball court in the park. There are open grassy areas can be used to play soccer, baseball, or softball.
Lynn Creek Park Contact Information

This site is not affiliated with Lynn Creek Park or the City of Grand Prairie. You can contact park management at 817-467-2104. You can call the park if you have any questions about their facilities, fees, or to reserve a group picnic site. They city also has a website with some information about the park.
Lynn Creek Park is located off of Lake Ridge Parkway (Grand Prairie, Texas).