Joe Pool Lake Cabins
The only cabins for rent in a public park on Joe Pool Lake are the 9 cabins in Loyd Park. The cabins are a great option for anyone who does not have an RV or a tent (or simply does not like to camp) but does want to stay overnight at Joe Pool Lake. Loyd Park's cabins are found near the park's swimming beach, are relatively new, and have a lot of nice features. There are 1, 2 and 3 bedroom cabins available, and one that is ADA accessible. Prices vary depending on the cabin and the dates of your planned stay.
The entry fee for one vehicle is waived with each cabin rental. The Loyd Park website has details about fees, more information about each cabin, and an online reservation system.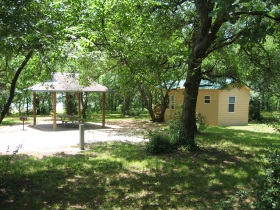 What do you get when you rent a Loyd Park Cabin?
All of the cabins have electricity, running water, central heat/air conditioning, a bathroom with shower, a stove, an oven, a refrigerator, a sink, satellite TV, kitchen utensils, a dinette, linens, and towels. There is also an outdoor barbeque grill, a fire ring (the park sells bundles of wood at the entry gate), and a covered picnic table.
You can find photos of the interior of some cabins at the Grand Prairie Parks website. There is also more information about rental fees.
Joe Pool Lake Rental Cabins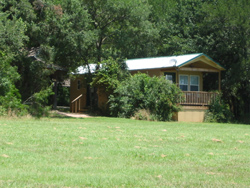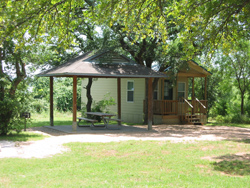 Views of Joe Pool Lake